Basic map in Dunjinni, extensive touch-up work in Photoshop - all alternate versions done in Photoshop.
I started this map with the intention of having a very basic map for the Inn of the Welcome Wench. In fact, I never really planned on mapping the Welcome Wench to begin with, since it's a home base and unlikely to be the scene of any combat or exploration (for which these maps are primarily used for). However, as I thought more about how I would carry out my campaign, I realized that at some point the party might actually have combat on the 2nd floor, and possibly even on the ceiling. I won't give away any spoilers here, except to say "read the module" or keep following our forums for news.
My needs were thus fairly unique - I needed a night-time map of the 2nd floor of the Inn, plus a night-time exterior view of the roofs and surrounding area. Well, what began as a simple map grew, because I kept thinking to myself, "while you're at it, why not finish the whole thing?"
This is my first map with multiple versions, all listed to the right. Each map is 3200 x 4000 pixels in size and is rendered at 100 dpi. The thumbnails link to the full resolution version without gridlines. You can get the gridline versions suitable for printing below the thumbnails.
Detail Examples:
Front Sign

Stables

Bath House

Bar (with magical light)

2nd Floor

Common Room


Too... Many... Light... Sources!
The original maps
WITH GRID (4.4 MB)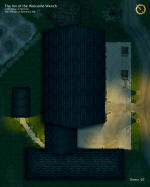 Rooftops - Night (2.6 MB)
WITH GRID (3.5 MB)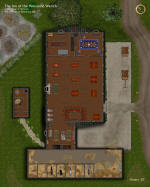 Interior - Day (4.8 MB)
WITH GRID (5.4 MB)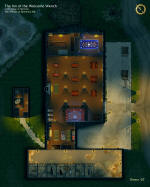 Interior - Night: 1st Floor (3.6 MB)
WITH GRID (4.3 MB)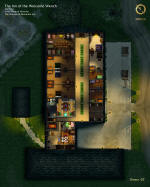 Interior - Night: 2nd Floor (3.4 MB)
WITH GRID (4.0 MB)